Thanksgiving Campaign for VFWSupporting Korean War veterans in other countries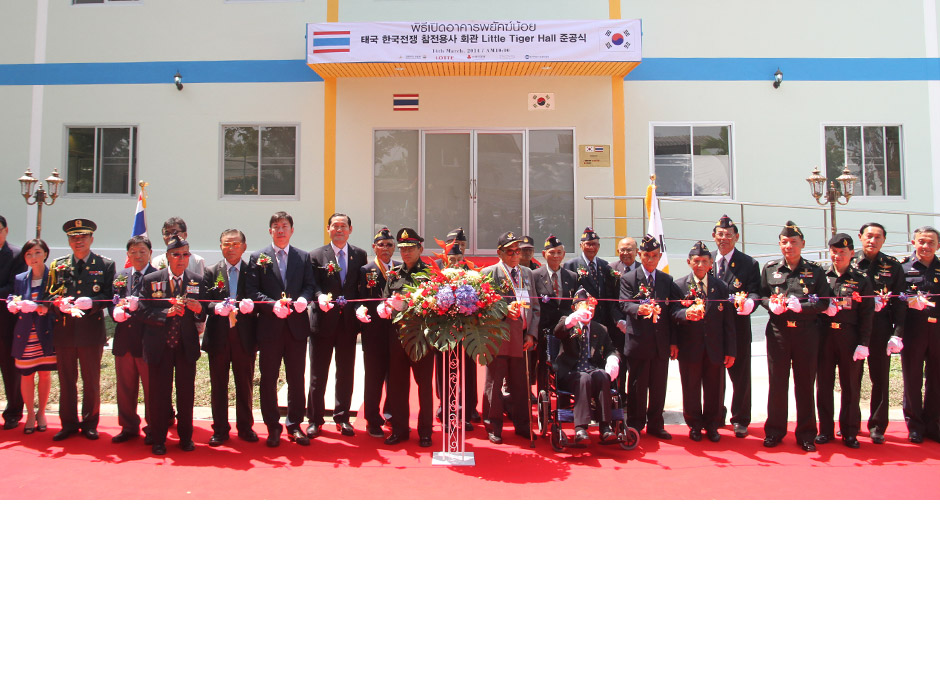 LOTTE has joined hands with the Ministry of National Defense to support
surviving Korean War veterans in other countries. For its first project, LOTTE built the Korean War Veteran Center in Thailand in 2014. The center serves both as a memorial and a welfare center for Korean War veterans and their families. The center also provides Korean language and Taekwondo classes every weekend. In 2017, the President of the Thai Korean War Veterans Association visited Korea to personally present a plaque of appreciation to LOTTE personally.
In 2017, LOTTE rebuilt the Korean Community Center to open the "Friendship Hall for Koreans and Colombian War Veterans" in Bogota, Colombia. LOTTE plans to open a third veterans' hall in downtown Addis Ababa,
the capital of Ethiopia, following the success of the centers in Thailand and Colombia.

In addition, LOTTE runs a scholarship program for descendants of overseas Korean War veterans to express our gratitude for their sacrifice. Because most of the veterans themselves are now in their 90s, we have extended our assistance program to cover their descendants as well, to help them contribute to their own countries just as their forefathers did for Korea.
The LOTTE Scholarship Foundation presented 100 scholarships to the children of Korean War veterans in Thailand, and plans to do the same in Colombia and Ethiopia, respectively.
Youth LibraryLibrary for soldiers in service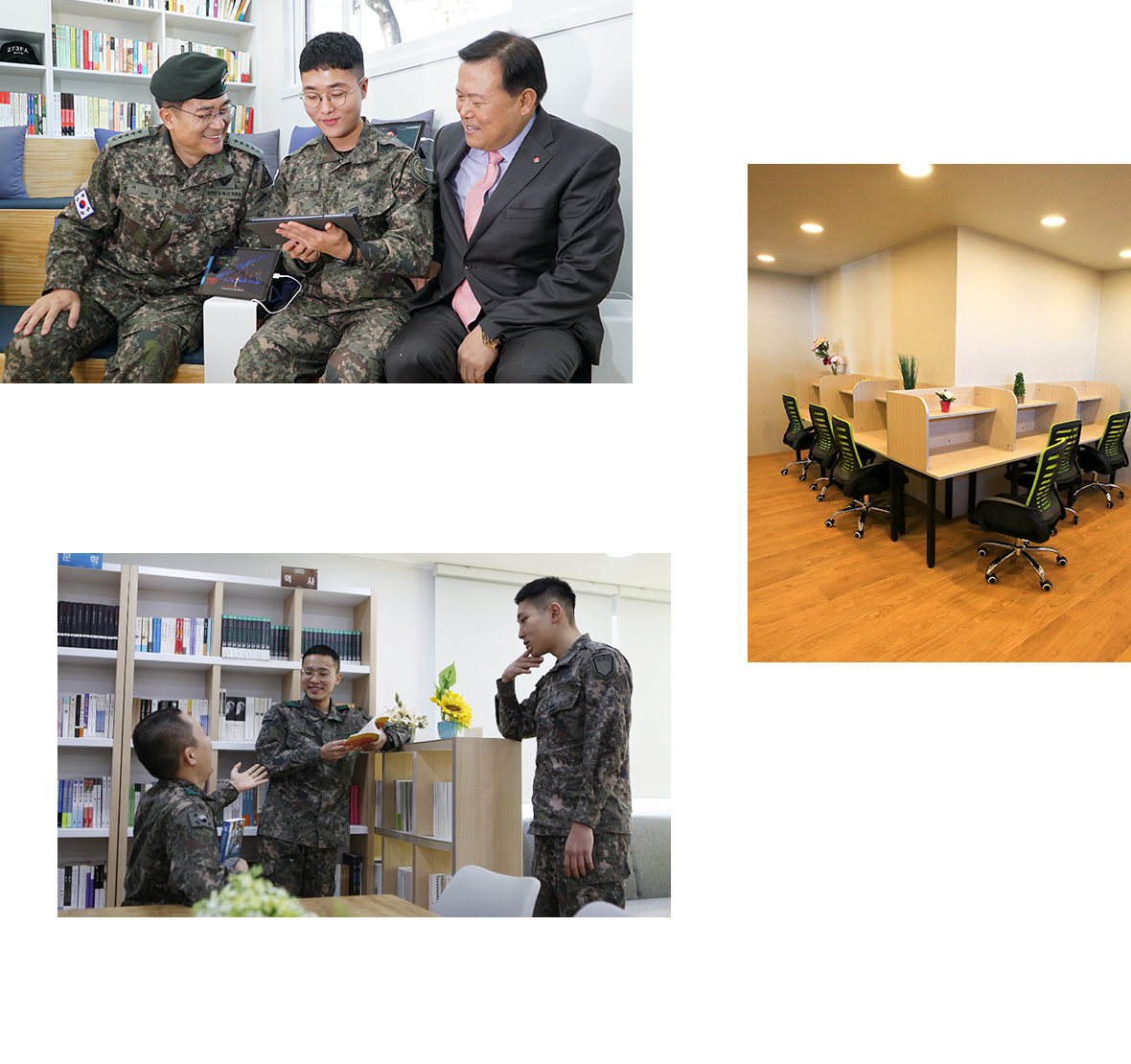 Youth Library is a library made from two shipping containers. Following construction of the first one in Gachilbong OP of the 21st Division at Yanggu, Gangwon-do in 2016, 12 Youth Libraries have opened so far.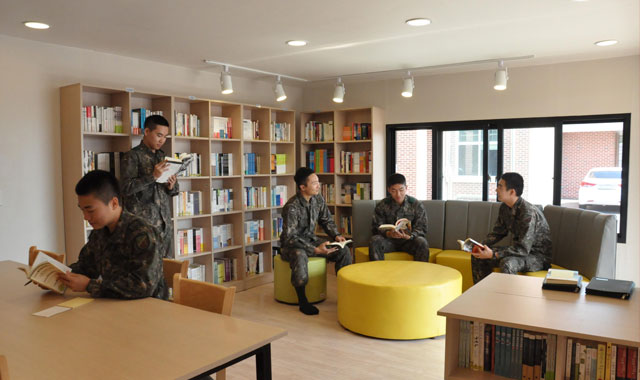 Youth Library is divided into two sections: a lounge and a study hall. The lounge is furnished with comfortable couches and tea tables where soldiers can choose from over 1,000 books to read. The study hall provides personal reading desks and spaces to listen to music.
LOTTE plans to open 33 Youth Libraries by 2018.
Official Partner of KSA and PyeongChang 2018 Winter OlympicsOfficial partner of PyeongChang 2018 Winter Olympics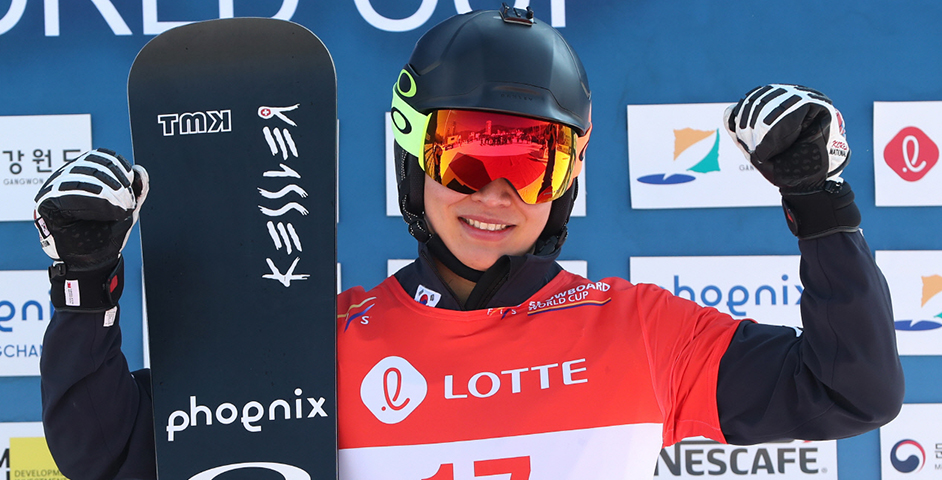 LOTTE Department Store and LOTTE Duty Free are official partners
of PyeongChang 2018 Winter Olympics. LOTTE Department Store is responsible for developing and marketing official souvenirs for
PyeongChang 2018. It runs the official Olympics shops near the Olympic stadiums in Pyeongchang and Gangneung as well as at airports and railroad stations in major cities. Olympic souvenirs are also available for sale in most LOTTE retail affiliates in retail business, including LOTTE Duty Free, LOTTE Mart, and 7-Eleven. We will continue our efforts to lead the PyeongChang 2018 Winter Olympics to success.
7-Eleven's "Together with Community" CampaignCampaign to express our gratitude to soldiers
7-Eleven is committed to supporting soldiers in service and inspiring patriotism.
The "Together with Community" campaign is part of our efforts. 7-Eleven's first "Together with Community" campaign focused on supporting veterans. In May 2014, 7-Eleven and the Ministry of Patriots and Veterans Affairs signed an MOU to launch a start-up assistance program for veterans. In August 2016, 7-Eleven signed the "MOU for Midshipman Cruise Sponsorship" with the Naval Academy of Korea to provide supplies equivalent to 1 million dollars for the Midshipman Cruise Fleet over 5 years. Since 2014, 7-Eleven has regularly visited the Marines on Baengnyeongdo and army units on the front line to deliver care packages.
In addition, 7-Eleven sponsored the Military World Games held at Mungyeong, Gyeongbuk in 2015. It is also one of the main sponsors of the annual Korea Defense Daily Comrade Marathon and provides drinking water, beverages, and other essentials for the participants.