Super Blue CampaignCampaigning to combat prejudice against the disabled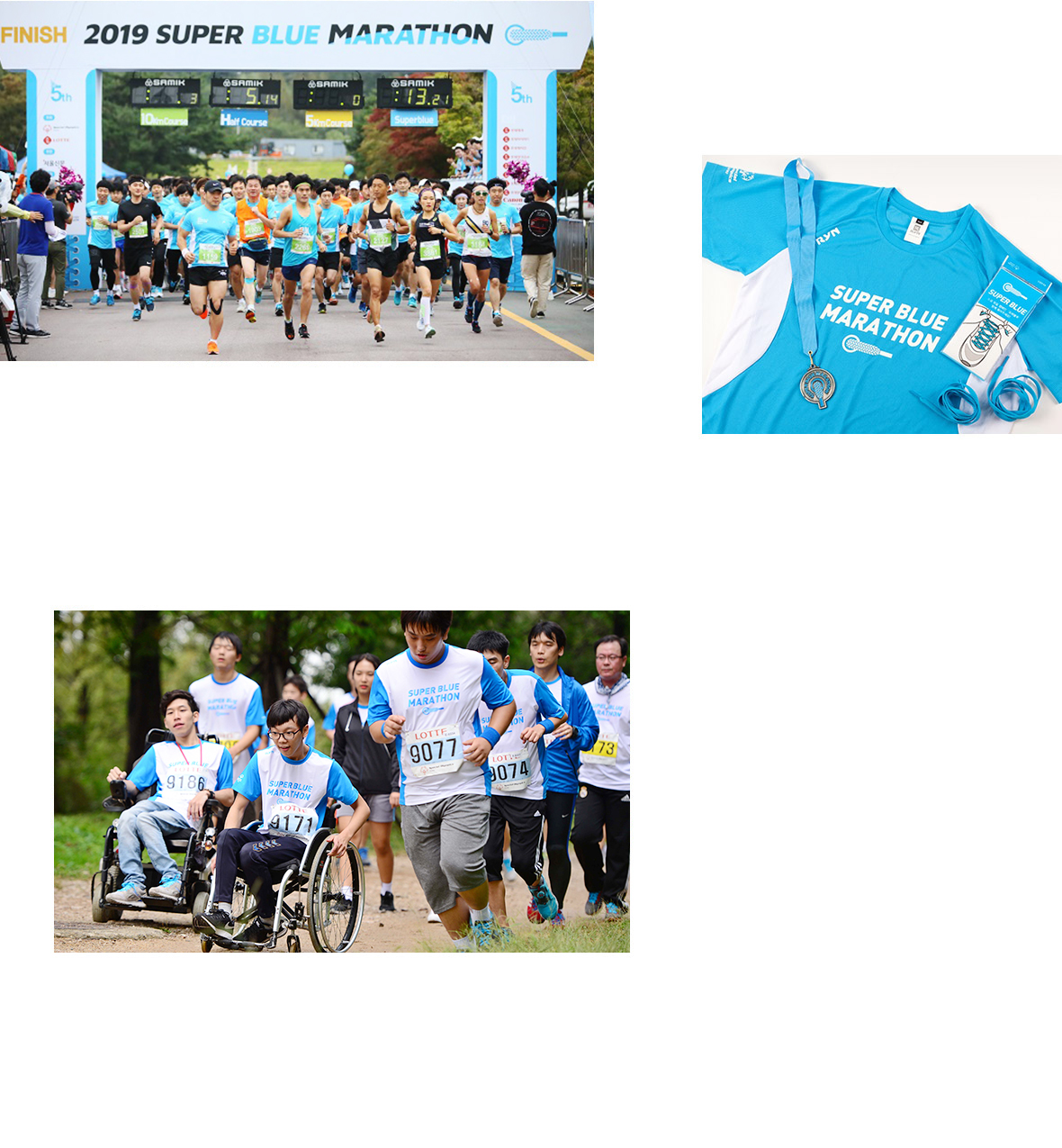 LOTTE kicked off its "Super Blue Campaign" in 2014
to combat prejudice against the disabled.
The campaign uses cobalt blue shoelaces as its symbol;
the color represents hope and the act of tying
one's own shoes represents independence.

The campaign encourages people to wear blue shoelaces to express their support for the disabled and pass along the spirit of independence, sharing and consideration. In addition, in cooperation with Special Olympics Korea, LOTTE has held the "Super Blue Marathon Competition" since 2015. This year, more than 6,000 people including 700 disabled people participated in the competition. With the increasing number of disabled participants, the competition has become a sports festival where both able-bodied and disabled people can enjoy.

To celebrate this festive competition, 7-Eleven opens to the public free Seven Café,
where visitors can enjoy snacks and drinks provided by LOTTE Confectionery
and LOTTE Chilsung Beverage.
LOTTE Group will continue its efforts to create a society without prejudice against the disabled,
and asks for your continued attention and support.
Mind Heat 37℃ CampaignFundraising campaign to support heating expenses for the children of the socially neglected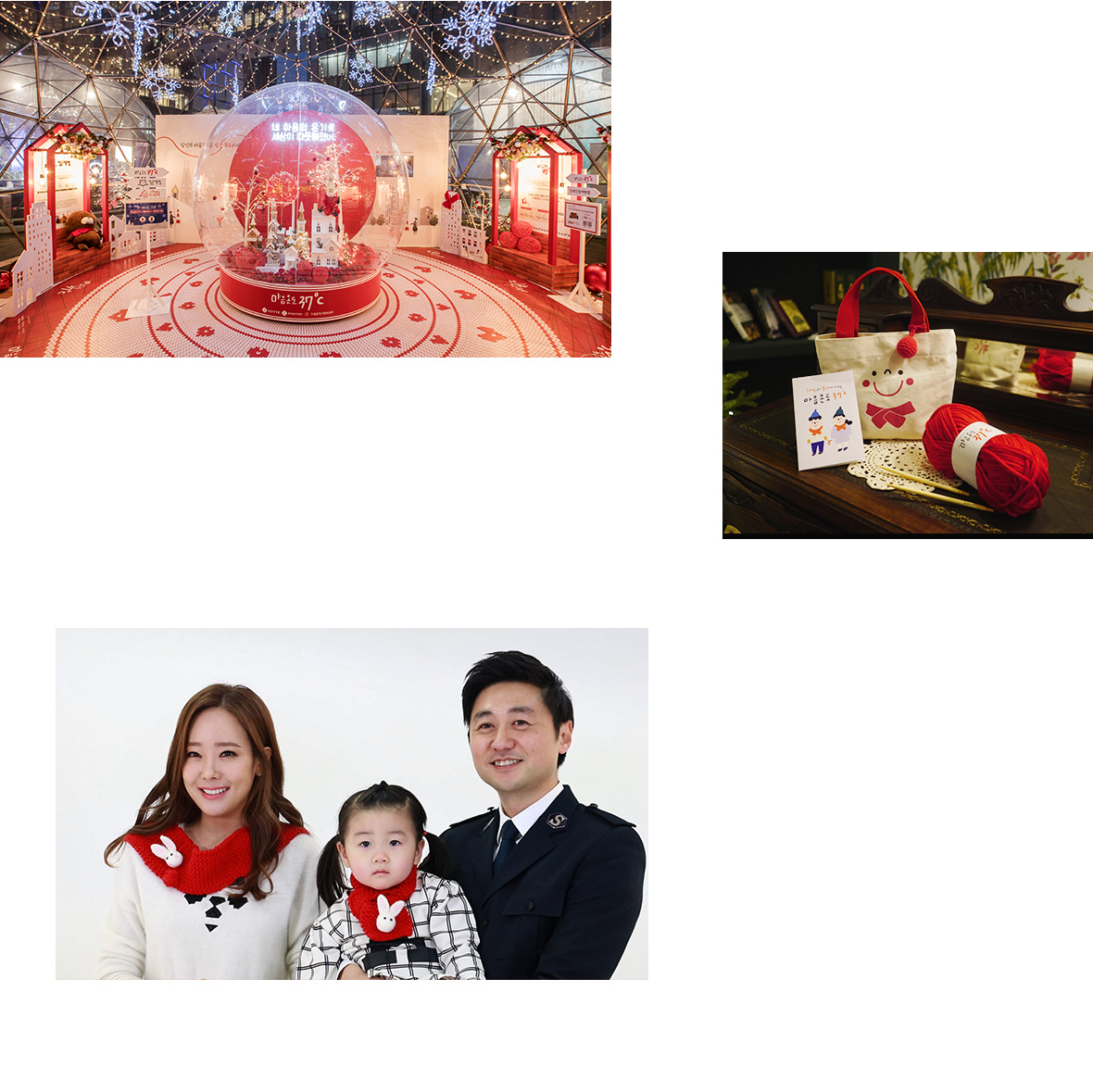 While your normal body temperature is 36.5℃,
the temperature of your heart may rise to 37℃ when you
do something good. Inspired by this imaginative concept,
LOTTE and the Salvation Army have conducted
the Mind Heat 37℃ Campaign together since the winter of 2014
in order to support heating expenses for the underprivileged.

Starting in the end of 2017, LOTTE will begin presenting red muffler kits to those who offer support for the campaign at LOTTE Malls at Jamsil, Eunpyeong, and Suwon As well as on the Salvation Army's Charity Pot website.

Donators can make mufflers with the kits and give them
to neighbors or others in need. This enables them to donate twice when they
participate in the Mind Heat 37℃ Campaign.
LOTTE Home Shopping, Sharing Relay - Angel DayThe Sharing Relay Campaign, donating where employees choose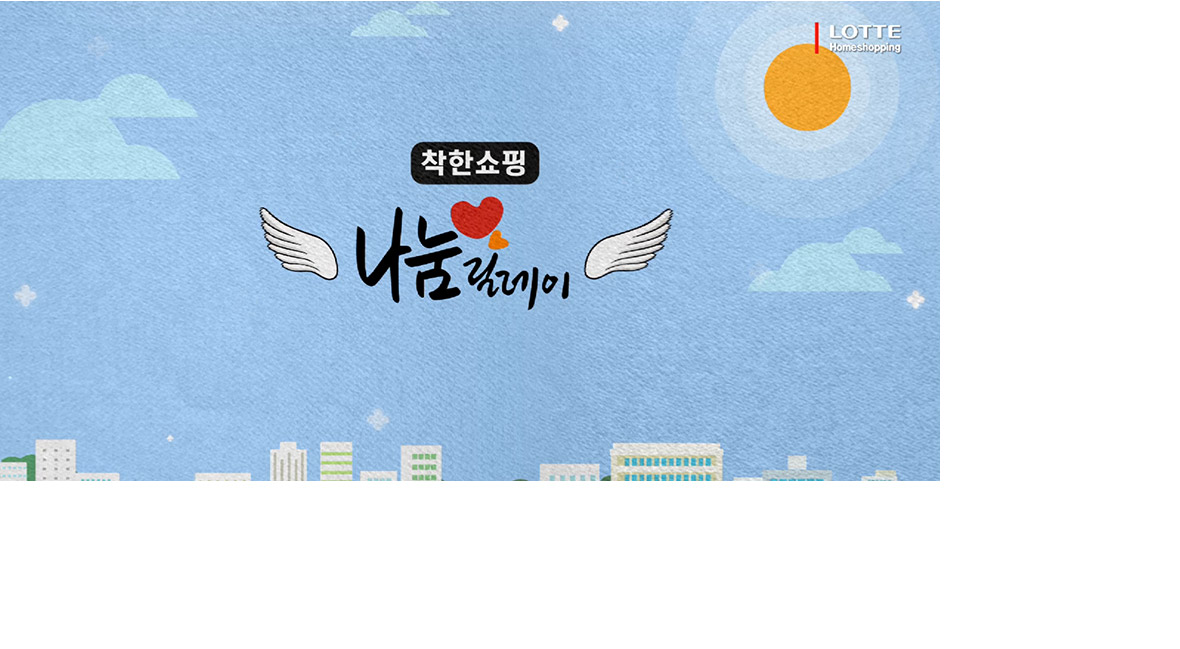 Designed to encourage voluntary participation in corporate social responsibility (CSR) activities, the Sharing Relay of LOTTE Home Shopping lets its employees determine whom and how to help. What makes this campaign more meaningful is that both employees and customers participate together. LOTTE Home Shopping designates every 3rd Saturday as "Angel Day" and saves 1,004 KRW for donations from every shopping order.
As many as 1,720,000 customers have participated in the Sharing Relay since 2014, donating 210 million KRW in the process. The funds are donated to where they are most needed to support the socially neglected, residents in remote areas, and social enterprises.
LOTTE Members, Little Miracle Changing the Worl'Point Publisher'
Point Publisher, LOTTE Members' corporate social responsibility campaign to publish fairy tales books in braille for blind children Braille books cost five times more than normal books and account for only 0.2% of total publications in Korea. Since 2012, Point Publisher has donated about 10,000 fairy tale books in braille to special schools for the disabled and the Korean Braille Library.

LOTTE Members encourages donations in many creative ways by connecting point donations with various cultural events, such as "Big Pleasure," so that donators benefit from premium cultural contents.
LOTTE Card, Double Point Donation CampaignPromoting a transparent donation culture
LOTTE Card's Double Point Donation Campaign has been designed to support sick and poor children. When you donate your card points, LOTTE Card donates the same amount in your name. LOTTE Card started this campaign in August 2013 to support children in need. Any customer who has L.POINT or LOTTE SK points can participate in the campaign.
Donated points are spent on sick and poor children to support living expenses, electric wheelchairs, and rehabilitation expenses. Beneficiaries are selected every quarter by recommendation from the Child Fund Korea and Good Neighbors. LOTTE Card will continue its effort to give hopes and dreams to sick and poor children.