Mom's Happiness Dream AtticHelping children grow their dreams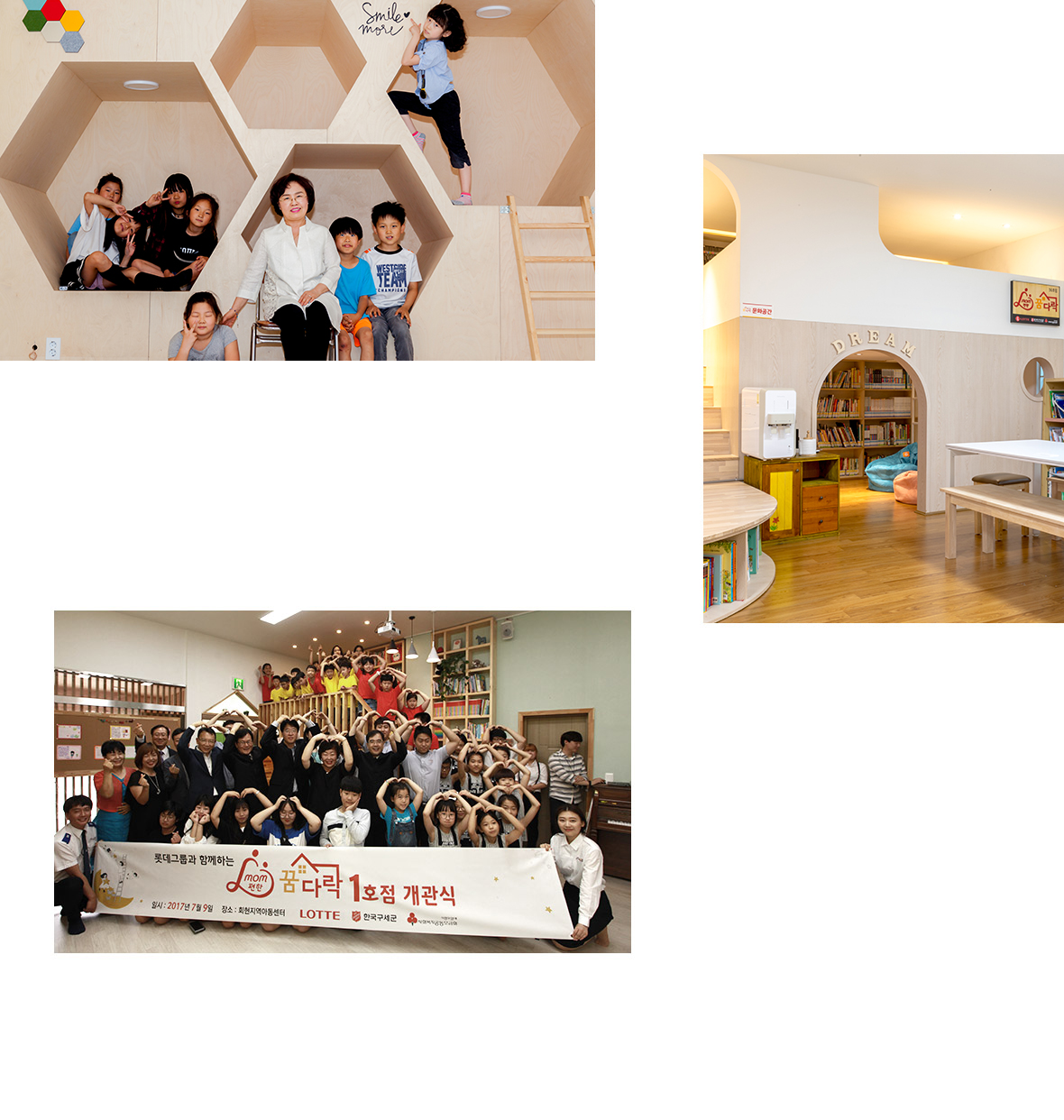 LOTTE has launched "Mom's Happiness Dream Attic" to
improve the environment in local after-school childcare centers.
This project transforms these centers into places where mothers
can leave their children without worry and children can develop
dreams and enjoy cultural benefits.

Starting with the opening of the first establishment in Hoehyeon-myeon, Gunsan-si in 2017, there are currently 56 in operation with plans to support 100 local childcare centers in the future.

Mom's Happiness Dream Attic is designed to resemble a secret loft,
so children can feel like they have their own secret place to play.
Many children end up spending many hours after school at childcare centers.
To make the centers more comfortable and exciting, Dream Attic also has Dream Attic Theater
and Digital Class Room facilities.
In addition, Lotte is continuously providing support with its Mentoring Programs and Dream Concerts to support the dreams of children of Mom's Happiness Dream Attic.
Mom's Happiness PlaygroundSecuring children's safety and happiness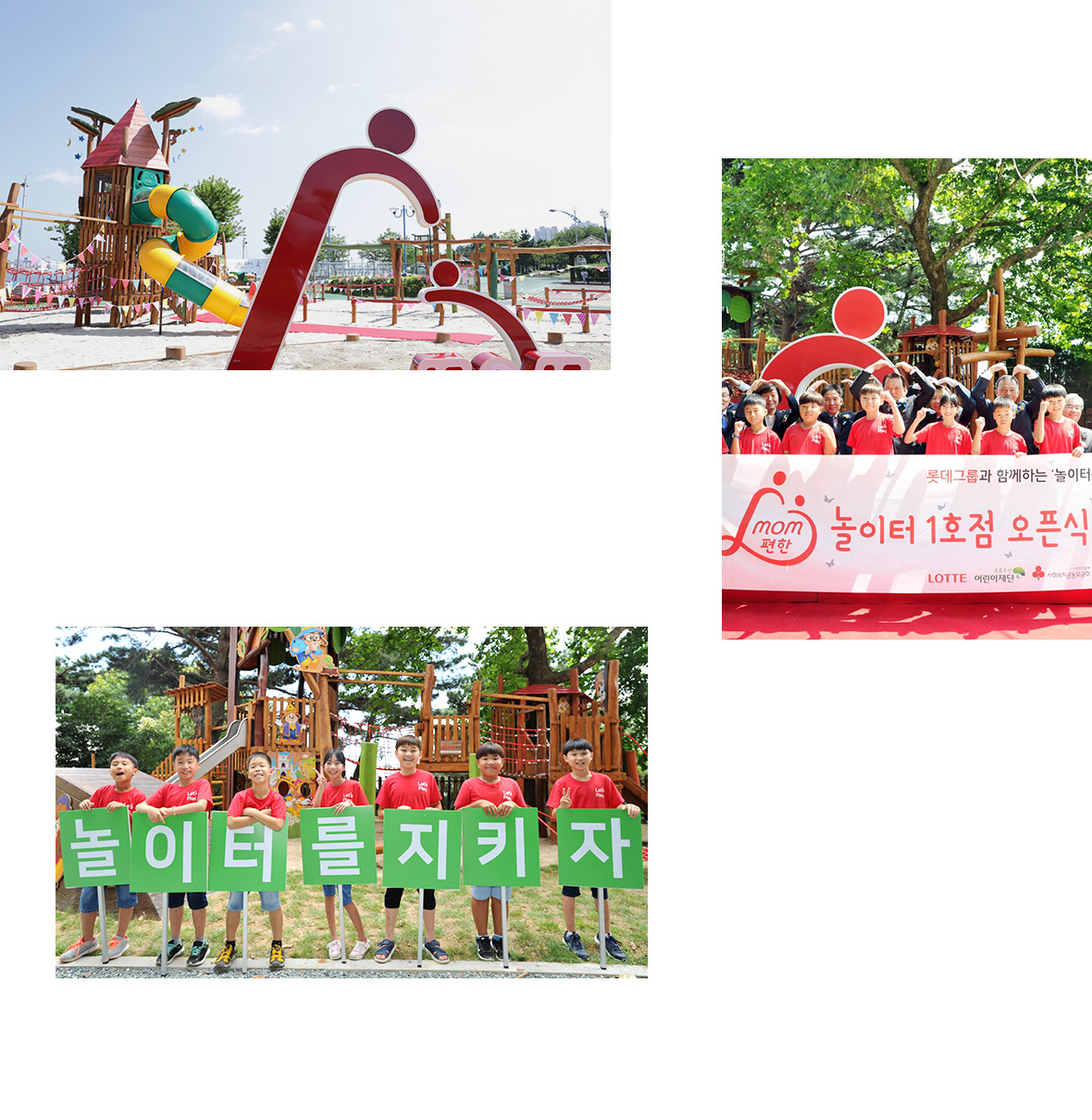 Today, social disparities can even be observed
in children's playgroundsTo contribute to relieving
such inequality,
LOTTE has started the "Mom's Happiness Playground" project,
which builds safe, eco-friendly child welfare centers and
safe playgrounds in poor urban areas and rural areas.

Starting with the first establishment in Dongnae-gu, Busan, which was launched in August 2017, there are plans to establish 16 playgrounds by 2020.

For children's safety, Mom's Happiness Playgrounds use
only eco-friendly, natural materials and have surveillance
cameras and night lighting installed. The playgrounds also
provide creative playing facilities, as opposed to ordinary toys,
which blend in very well with the surrounding nature.
Mom's Happiness Pre-mom ProjectSupporting childbirth and childcare for expectant moms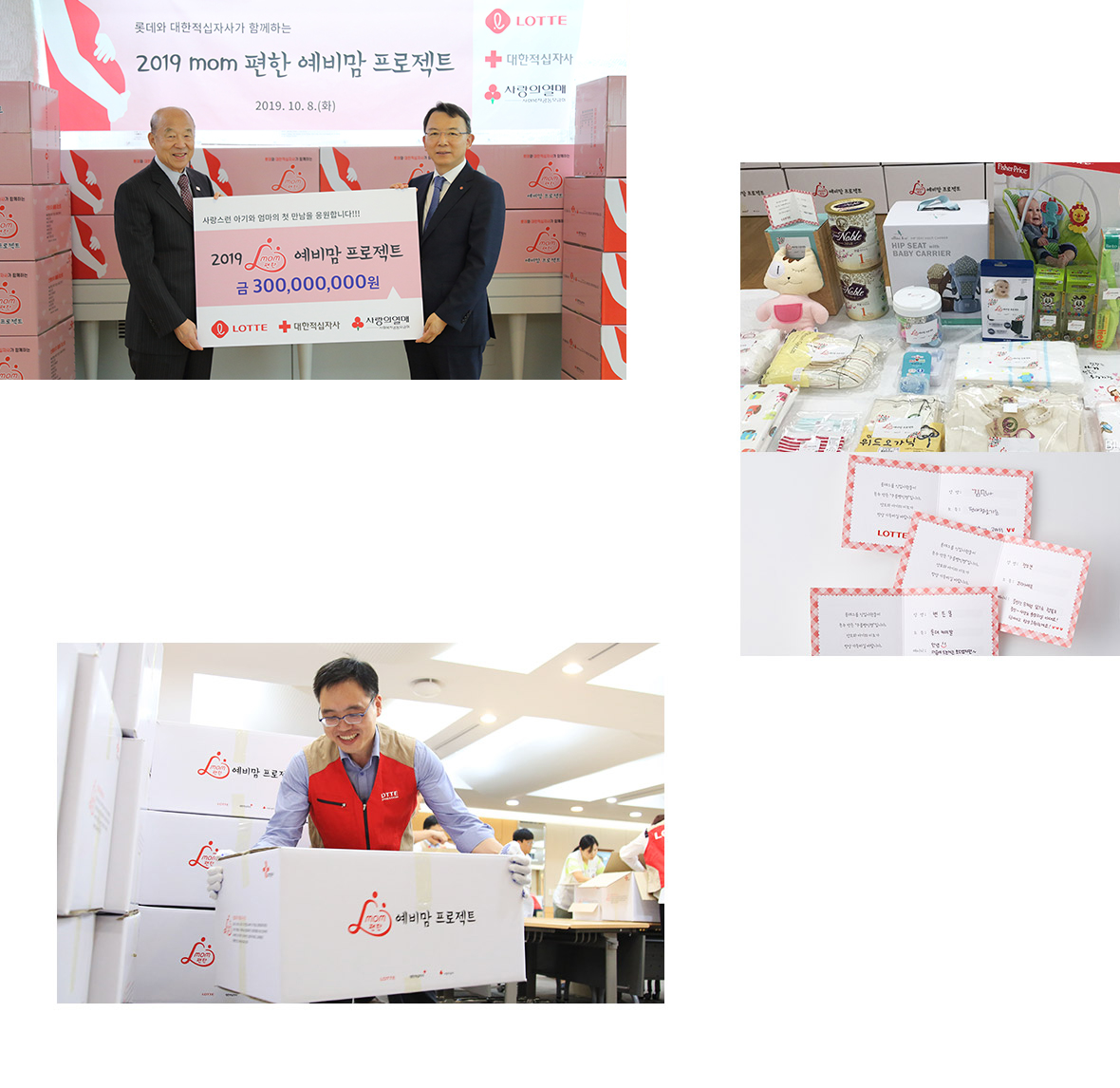 The Mom's Happiness Pre-mom Project is one of LOTTE's
efforts to tackle the low birth rate.
The project has helped expectant mothers of multicultural
and low-income families since 2015.

Having a child may not be a blessing for those with little economic resources. The Mom's Happiness Pre-mom Project helps mothers-to-be with obtaining essential baby items, such as clothes, feeding bottles, and car seat carriers, and also provides expectant mothers with first-aid training and childcare basics.

From 2015 to the present, we have supported a total of 4,200 mothers through this project, and it is estimated to celebrate the birth of about 800 babies in 2020.
Mom's Happiness Co-pareting CenterImproving the childcare environment
Mom's Happiness Co-pareting Center for the service families
of service members living near the border with little
access to childcare services.

Mom's Happiness Co-parenting Center is a cooperative project among LOTTE, the Ministry of Gender Equality and Family, and the Ministry of National Defense. This is a place established by remodeling unused military family housing, and we plan to open 25 locations in front line areas, including Cheorwon, Baengnyeongdo and Yeoncheon by 2020.

Mom's Happiness Co-pareting Center provide a space for mothers
to consult and comfort each other, and for children to read books
and play with toys and educational tools for free.
Mom's Happiness Healing TimeSupport working moms with finding an ideal work-life balance
Mom's Happiness Healing Time is a healing program
designed by LOTTE for working moms who have to handle
responsibilities both at work and at home.

LOTTE holds a healing camp for female social workers who devote themselves to helping the underprivileged. During the two-night, three-day camp, they can enjoy being with the family they usually have little time to see and make lasting memories.

LOTTE has been running this program in cooperation with the Ministry
of Health and Welfare since 2014. About 700 social workers' families
enjoy the camp every year.
We hope that it will serve to encourage the social workers to continue their vital work.
LOTTE Confectionery's Sweet HomeMaking children smile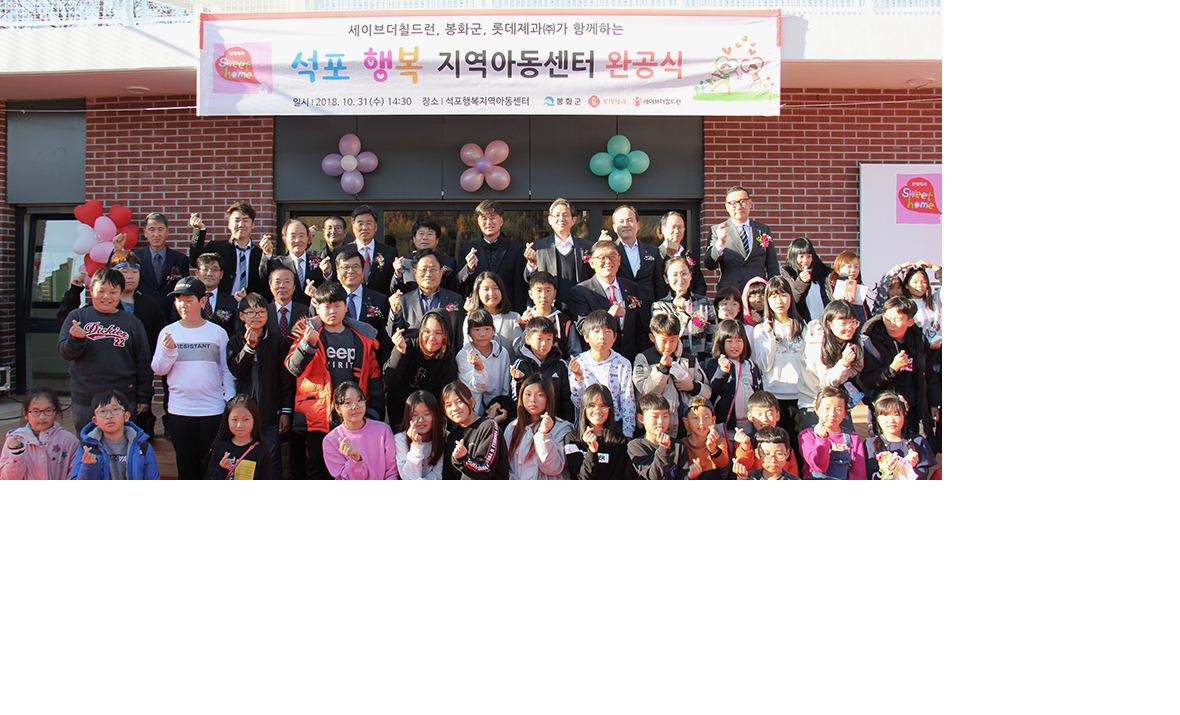 Sweet Home, a project led by LOTTE Confectionery and Save The Children
Korea to help build new childcare centers in remote areas Starting with the first establishment in Wanju in 2013, we have expanded to Yecheon and Bonghwa in Gyeongsangbuk-do as well as Yeongwol, Chungnam and Hongseong in Gangwon-do and Yeonggwang in Jeollanam-do. In 2019, we opened the 7th Sweet Home in Taean, Chungcheongnam-do. Considering that children are our future leaders, Sweet Home provides children with various themed rooms, including classrooms and play areas. Both children and local community members participate in designing their own Sweet Home. LOTTE Confectionery hopes that more children can let their hopes and dreams grow under the protection of Sweet Home.
LOTTE World, Dream StageTalent donation for children's dream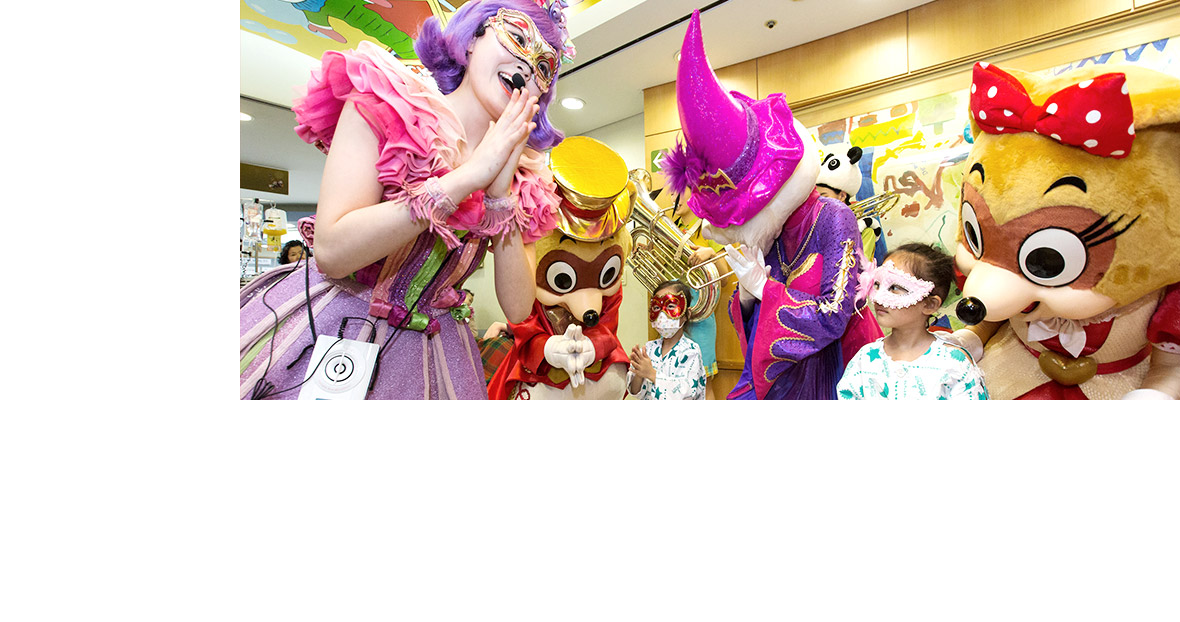 Dream Stage, a CSR (Corporate Social Responsibility) program to help
child cancer patients achieve their dreams by performing on stage in LOTTE World Adventure Only with "talent donations" from LOTTE World's Performance Team could Dream Stage become a reality.
They teach singing and dancing to children in need and then put on a performance together on stage. In December 2016,
nearly 40 child cancer patients performed in the Christmas Carol Concert.
In 2017, the team and participating children released a chorus and delivered a performance to raise public
awareness of cancer in children. In addition, LOTTE World has run the "Outreach Theme Park" program
since 1995, in which its Performance Team visits children's hospitals and performs shows.
LOTTE World promises to focus even more efforts on CSR activities.
LOTTE Mart, Dream CatchersHelping young talents realize their dreams
Since the foundation of Happiness Dream Volunteers in 2011, LOTTE Mart has made continuous efforts to help young talents realize their dreams. Dream Catchers, part of LOTTE Mart's Young Talent Development Project, represents adolescents who discover their talents and strive to fulfill their dreams. Many young aspiring musicians give up their dreams due to the high cost of tuition. Dream Catchers provides these young talents with not only financial support, including tuition assistance and scholarships, but also with opportunities to receive lessons from experts and participate in orchestras, competitions, and concerts, so that they can develop their talents without worrying about the costs.
LOTTE Mart's Dream Catchers is always open to those who are struggling to fulfill their dreams even in difficult situations. LOTTE Mart will continue its efforts to provide young talents more opportunities to realize their dreams.
LOTTE Rental, Dream RentTraveling with the disabled
Since 2013, LOTTE Rental has provided free trips for families with handicapped children. Aware that it is difficult for families with disabled children to travel freely, LOTTE Rental first invited a family to Gangwon-do in 2013, and then eight families to Buyeo in 2017. In addition, LOTTE Rental holds an event every month that awards free tickets to have access to wheelchairs, elevators and cars specifically designed for the disabled. To put their "Share and Dream" vision into practice, LOTTE Rental will give more families an opportunity to travel in free rental cars, enjoying beautiful landscapes, making good memories, and growing dreams.