About US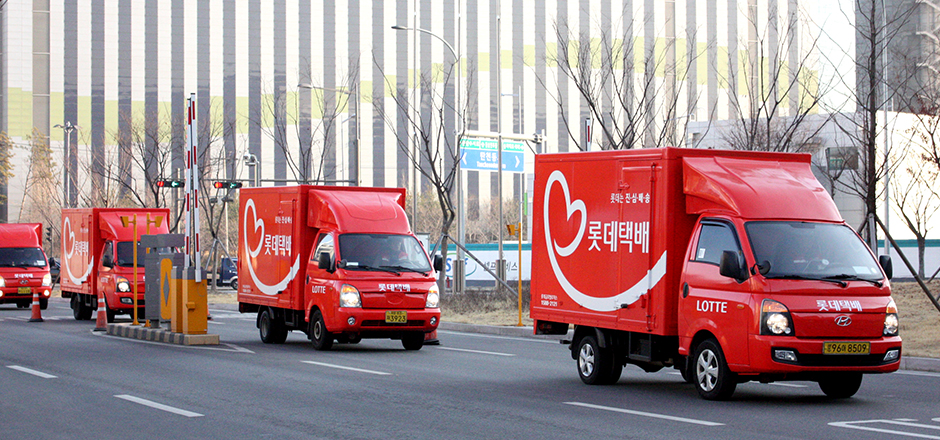 Logistics company providing advanced logistics services Since it was founded in 1988, LOTTE Global Logistics has contributed to the growth of the national logistics industry and become Korea's representative global logistics corporation. Backed by more than 1,000 Korean and 200 overseas logistics business networks and outstanding IT services, it offers logistics services in parcel, ground delivery, third-party logistics, port cargo loading and unloading, and customized international logistics needs.

In addition, through the establishment of its advanced logistics system, LOTTE Global Logistics provides enhanced logistics services for everything from international logistics services to logistics linking services.
CEO

Park Chan Bo

Date of foundation

1988.6.13

Major Business

Parcel services, ground deliveries, SCM, port cargo loading and unloading, international logistics

Address

10F-11F, Yonsei Severance Bldg., 10, Tongil-ro, Jung-gu, Seoul

Phone

(+82)-2-2170-3355
Major products and services

Parcel services

LOTTE Parcel is the parcel delivery brand of LOTTE Global Logistics, rewriting the history of Korean parcel delivery. It currently operates the nation's largest infrastructure, which comprises 15 hub terminals, 39 offices, 65 collection centers, and more than 1,000 branches in major areas around the country.

SCM services

With the best SCM in the country, LOTTE offers advanced logistics services to customer companies. By holding consultations with a group of logistics experts, LOTTE is able to significantly improve existing logistics process for consignor companies and thus enables its clients to enjoy more efficient logistics and reduced costs.

Harbor loading and unloading services

Equipped with unloading and storage facilities exclusively for bulk cargo, special cargo, and containers, it provides 24-hour harbor loading and unloading services using the most advanced technology and, through the professionalization of operations personnel and continuous investments into harbor facilities, fulfills its role as a primary portal for import and export trading in Korea.

Shipping services

With an advanced logistics information system that ensures efficient logistics management and enhanced customer service, LOTTE is able to provide the status of transported cargo worldwide in real time. And with its one-stop service that combines various means of marine transport with logistics technology, LOTTE offers the best marine transport services for customers.

Flight services

Equipped with a global network and a professional operating system that connects the world like a spider web, LOTTE swiftly and safely transports goods for customers, 24 hours a day, 365 days a year, anywhere around the world.

International express transport services

LOTTE Global Logistics aims to meet the ever-changing needs of an increasingly segmented customer base in line with the rapidly growing global electronic commerce market, and thus provides enormous warehouse facilities, advanced devices, and IT services for customer convenience, establishing its status as the unrivaled leader in the express transport market.

Intermodal services

LOTTE provides total logistics services that connect every region in Korea through an advanced transport system. Its special logistics service, which contributes to the strengthening of consignor companies' competitiveness through optimal transport solutions, operates 24 hours a day, 365 days a year.
Network
Find out more about networks around the world